You can add a button to your landing page by dragging a button element from the left-hand menu.

You can edit the button's appearance and settings from the Ribbon Toolbar menu.
Double-click the button element to access the button settings menu, where you can configure your button's action to redirect to a web address, redirect to a file or make a phone call. This is how you create a mobile click-to-call button. You can also access the button setting through the Ribbon menu.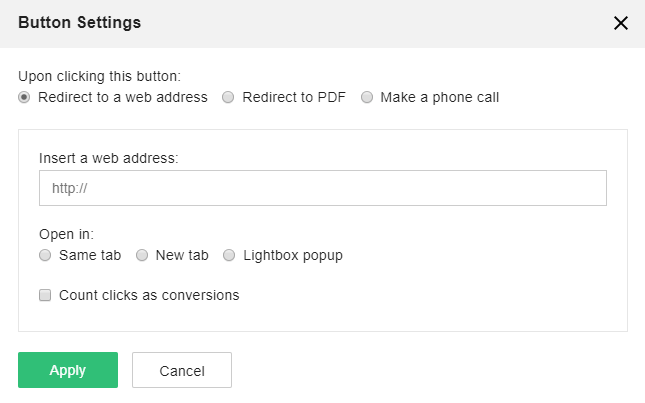 How to set a button to redirect to a web address
Here you can paste the URL you want to redirect to on a button click. You can direct the URL to open in the same tab, a new tab, or a lightbox popup.
How to set a button to redirect to a file
Use this feature to upload and serve an e-book from your landing page
1. Select the 'File' tab and click "Upload a new file" to open the form to select the file to upload.
2. Select your local file to upload to Pagewiz. You can only upload images, PDFs and MS Office files to Pagewiz.
3. Check the check-box to define the file as a conversion goal if you want your file downloads counted as 'click' statistics.
4. Click 'Apply' and 'Save' your page.
How to set a button to send an Email to a specific address
You can configure a button (or any image or text) to trigger an email message sent to an address you specify. Set the redirection to a web address and in the web address box enter: mailto:your-email@your-domain.com