Pagewiz sends email notifications to alert you that your landing page has just obtained a new lead, meaning that some visitor has left their details on the submission form in the landing page you have created.
Let's say you have clients that need landing pages for their business, and you use Pagewiz to create them. Why should your clients know you are using Pagewiz?
Our White Labeling feature lets you completely customize the lead notification emails your clients receive from Pagewiz. You can brand them so they look like they came from you or your company.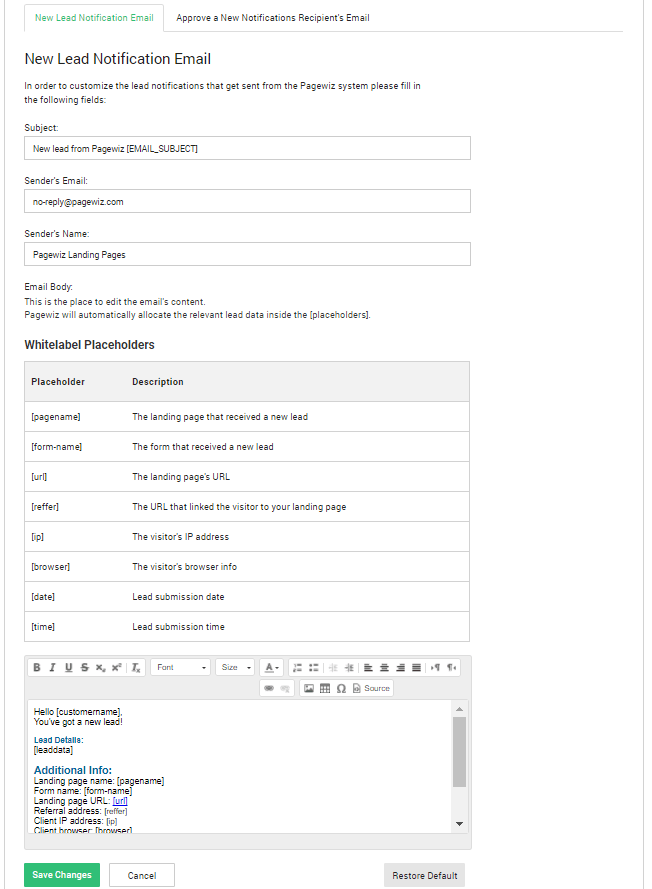 You can customize the following emails sent to your clients:
New Lead Notification Email
Approve a New Notifications Recipient's Email
This White-label feature allows you to customize:
The email's subject line
The sender's email and name
The email's entire body content
To help you edit the email's body we've specified the White-label placeholders.
Once you are happy with the result, click 'Save Changes' to update the emails sent to your clients by Pagewiz.
If at any time you wish to go back to the original Pagewiz notification email, click the 'Revert back..' link located at the bottom right side of the page.
Here is a short video guide showing White-labeling in action:
Note: This feature is available on the 'Plus' plan and higher.