To enter a specific landing page's settings, you can click on the page's name, or hover your mouse over a specific landing page entry. When you do this, three clickable options appear:

Click 'Settings' to open that landing page's settings page.
Click 'Design' takes you to the designer for that page.
Click 'Preview' to preview the page.
When you choose a landing page (by clicking on 'settings' or on the specific landing page) a left-hand menu appears. You can navigate through the landing page settings With this menu's options: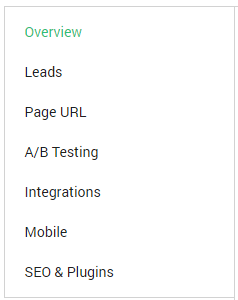 Overview
View your page's monthly performance data.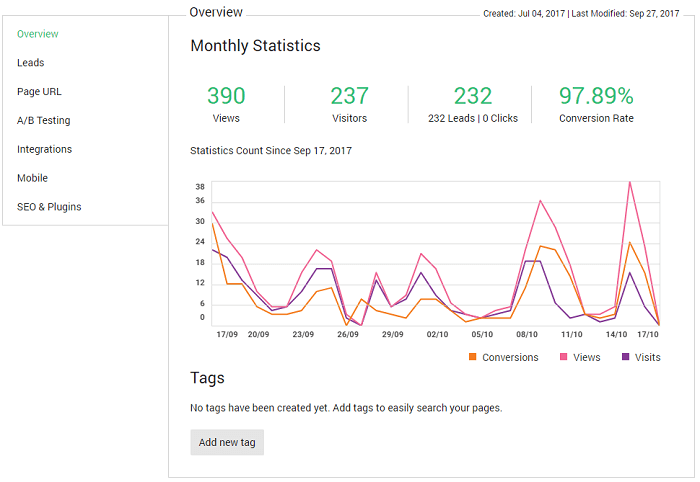 Tags
Here you have the option of adding tags to your landing page. You can do so by clicking the 'Add new tag' link. Tags you add here display in the landing page search box, so you can later find a specific landing page based on its tags.
Leads
View and manage your landing page leads.
You can toggle between lists of leads captured by different variants of your site, export lead information as a CSV spreadsheet (MS Excel file), and delete leads or mark them as handled/unhandled. You can also select which columns to show by clicking on 'Show/Hide columns' located on the right.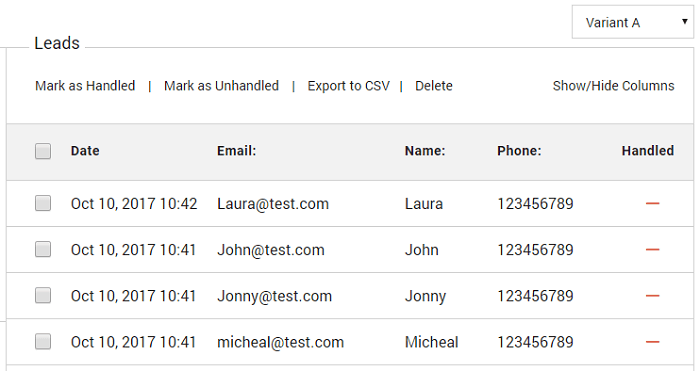 Export Your Leads to a CSV / Excel File
Your landing page's leads can be exported at any given time with full control over which leads you export from your account. For example, you can export leads from multiple landing page campaigns at once.
How to Export


1. Navigate over to the 'Leads' area inside Pagewiz and click on 'Search' to filter the leads you wish to export to an Excel spreadsheet.
2. You can filter by date and by landing pages. If you do not select which landing pages you want - it will export all by default.
3. Click 'Search' and you will be presented with only the leads you choose.
4. Click the 'Export to CSV' to download a local copy of them.
An Excel file containing your info will promptly be downloaded to your computer.